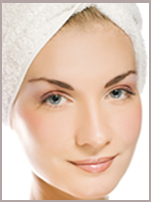 Laser Resurfacing
Cosmetic laser resurfacing also called "laser peel", is a procedure that smoothes the facial skin by using by using a laser to refinish damaged areas and shrink fine wrinkles. This procedure works well for fine, surface wrinkles, whereas the facelift works for deeper wrinkles associated with the muscle. The result is a fresher, smoother complexion. Men and women of all ages may benefit from this procedure.
Any one of the following feelings or conditions may indicate that you are a good candidate for laser resurfacing:
Fine lines, especially around the eyes
Vertical lines around the mouth
Facial scars caused by injury or accident
Scars caused by acne
Areas of uneven pigmentation, such as "age spots"
Lines on the cheeks caused by sun damage top
You may want to discuss other resurfacing options with Dr. Pledger if you have any of the following:
Skin that is olive, brown or black
You have taken Accutane during the past 18 months
motivations for wanting this procedure
You are prone to abnormal (keloid-like) scarring
You have an active skin infection
During your consultation Dr. Pledger will evaluate the quality, thickness, and color of your skin to determine if this procedure is right for you. You should be prepared to discuss any previous surgical procedures you have had, including microdermabrasion or chemical peels. In some cases Dr. Pledger may recommend that you try microdermabrasion before laser resurfacing.
Surgery
Prior to surgery you will begin a skin care regime. You should begin this at least two weeks prior to surgery. Dr. Pledger usually requires that you use hydroquinone and Retin-A on your face to reduce the pigmentation in your skin. One of Dr. Pledger's nurses will discuss these instructions with you. Laser resurfacing is done in a surgical facility on an outpatient basis. The procedure is performed under general anesthesia. During the procedure, the laser is carefully passed back and forth over the skin until Dr. Pledger reaches the safest level that will make the wrinkles less visible. The laser removes a very thin layer of skin cells each time it is passed over the face. Your eyes are protected during the procedure. At the conclusion of the procedure Bacitracin will be placed on your face to protect the skin.
Post-operative Recovery
Dr. Pledger will give you a prescription for pain medication that should control most of the pain. You will be given Bacitracin ointment, and this should be applied to the face regularly to keep the face moist. You can use ice packs to decrease swelling. Your face will be bright pink to red in color and this is normal. The redness is a positive sign that the healing process is progressing and a new layer of collagen is being laid down. Once the skin has healed, usually after 7 to 10 days, you can safely apply makeup as a concealer. It's important to remember that the redness will fade gradually. It is essential that you protect your face from the sun in the months and years following surgery. If you must be in the sun, apply a strong sun block with an SPF of 15 or higher and shade your face. You will be given a detailed list of post-operative instructions prior to surgery.