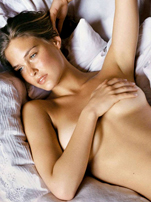 Breast Augmentation
If you have often wished that your breasts were larger, fuller or more shapely, breast augmentation surgery may be the right choice for you. Breast augmentation is a cosmetic procedure that uses implants to enlarge and shape the breasts. The procedure increases the size and projection of the breast. It does not change the basic shape of the breast.
Any one of the following feelings or conditions may indicate
that you are a good candidate for breast augmentation:
You are bothered by the feeling that your breasts are too small
Weight loss has changed the size and shape of your breasts
After having children, your breasts have become smaller and have lost their firmness
Dresses that fit well around your hips are often too large at the bustline
One of your breasts is noticeably smaller than the other
You feel self-conscious wearing a swimsuit or form-fitting top
In addition, there are several "musts" for anyone considering breast augmentation:
Your breasts must be completely developed
You must be emotionally mature and fully understand your
motivations for wanting this procedure
You must have realistic expectations, knowing that the procedure can bring improvement, but not perfection
Consultation
During your consultation Dr. Pledger will tell you about the surgical procedure, the associated risks, and he will answer your questions. You will determine the best look for you. This is done by "trying on" several different implant sizers with one of Dr. Pledger's nurses. After examining your breasts, Dr. Pledger will then apply this information to determine the size of implant to be used to achieve the look you have chosen. You will also discuss with Dr. Pledger what type of incision to use. In most cases the incision is placed in the breast fold , thus allowing a more natural placement of the implants. A nipple or armpit incision can also be used. In some cases a nipple incision is combined with a "crescent lift" if the nipples need to be raised a little. Dr. Pledger usually places the implant beneath the pectoral muscle. All of these aspects of the surgery will be discussed during the consultation. At the conclusion of your consultation you will have an opportunity to look over Dr. Pledger's portfolio with a member of his staff.
Surgery
Breast augmentation is performed under general anesthesia on an outpatient basis in a surgical suite. Prior to going into surgery you will meet with Dr. Pledger again to discuss any questions you may still have regarding the surgery. Your surgical incisions will also be marked at that time. The breast tissue and pectoral muscle are lifted to create a pocket. The implant is than centered beneath the nipple. Placement beneath the muscle is more painful for the first 1 to 2 days after surgery, but is the best procedure to use, especially with saline implants. The subpectoral pocket gives a more natural look, feel, and movement to the breast. You are also less likely to experience wrinkling in the implant. The procedure takes approximately one hour. Recovery time can vary between one to three hours. You will be given a prescription for pain medication at the time of surgery.
Postoperative Care
Most of your pain can be controlled with medication. Following surgery you are likely to fell tired and sore for 3 to 5 days but you may return to your normal routine or work after 3 to 5 days. You should avoid heavy lifting for at least 2 weeks. Dr. Pledger will see you in his office 1 to 2 days after your surgery. It is imperative that you keep your follow-up appointments with Dr. Pledger if you want to achieve the best result possible. It is recommended that you wear the bra that is provided by our office for about 2 weeks. After that time you can wear a different bra. The swelling in the breasts may take 2 to 5 weeks to disappear. Part of your post-operative recovery may include massage, also known as implant displacement exercises. This is the best tool that you possess to prevent capsule formation around the implants. Massage helps to keep the pocket open and stretched out. Dr. Pledger will instruct you on what exercises to perform and how often to perform them. It is imperative that his instructions be followed and that your follow-up visits be kept. A more detailed list of post-operative instructions will be given to you at the time your surgery is performed.
Breast Cancer
Prior to undergoing breast augmentation it is important that you discuss with Dr. Pledger your family history of breast cancer. It should be noted that breast augmentation surgery is not associated with breast cancer and that implants do not cause breast cancer. In fact, some studies suggest that there is a decreased incidence of breast cancer in augmented women under 40 years of age. The most important step that you can take in avoiding breast cancer is to insure early detection. This is best accomplished by self-examination. Breast self-examination should be done 5 to 7 days after your menstrual period and only once a month. It will help you understand your own breast architecture so that when a change occurs you will be able to recognize it immediately. By doing this on a regular basis you should be able to identify a new mass quickly and get it evaluated medically. A mammogram can be preformed on augmented patients by using the Eckuland procedure. There are also other techniques that can be used to evaluate the breasts such as ultrasound or MRI. Your breast implants will not interfere with diagnosing breast lumps.
Saline vs. Silicone
Silicone gel implants are available as part of a study in conjunction with the FDA. If you are interested in using silicone implants ask Dr. Pledger if you qualify for the study. An alternative to silicone gel breast implants is a device inflated with saline, or slat water. Saline implants are similar to silicone gel implants in that they both have shells made o0f silicone rubber. However, saline implants are inflated with salt-water solution at the time of surgery instead of being pre-filled with silicone gel. If saline filled implants leak or rupture due to trauma or another reason the salt water is harmlessly absorbed into the body and excreted. There are some disadvantages to saline implants. If the implant does deflate the breast will lose it added size within hours. Additional surgery will be required to replace the implant. In addition, many patients feel that a breast with a saline implant does not look or feel as natural as one with a silicone gel implant, particularly if there is little existing breast tissue to cover it. Some women say that wrinkles or ripples on the surface of the implant are more easily seen through the skin so the implant is usually placed beneath the muscle. We hope this answers some of your questions regarding breast augmentation. If you have any further questions or concerns please feel free to ask Dr. Pledger or one of his nurses, and they will be happy to help you.