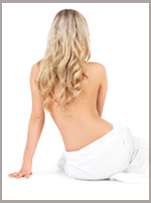 Liposuction / Body Contouring
Liposuction is most common recommended for men and women of normal weight who simply want to improve their body contour. It is not a form of weight loss, in fact most patients find that they maintain their same weight following surgery. This procedure can produce excellent results for you if you have deposits of excess fat that makes certain body areas appear disproportionately larger.
Although liposuction is not a treatment for obesity, it can permanently alter body proportion and is sometimes the only way to eliminate fat deposits that do not respond to diet and exercise.
Liposuction can be used to remove fat almost anywhere on the body where it creates bulges. It can be performed on several areas of the body at the same time and can also be done in conjunction with other cosmetic procedures. It can also be used to treat some case of gynecomastia, or male breast enlargement, which occurs in both teenagers and adult men.
Liposuction can't serve as a substitute for dieting and exercise and it can improve but cannot eliminate cellulite, a condition that gives the skin a dimpled appearance. Also, certain medical conditions may complicate liposuction. They include: diabetes, high blood pressure or heart diseases. It's important to let Dr. Pledger know if you have any of these medical conditions.
Consultation
During your consultation Dr. Pledger will assess your physical and emotional health and discuss your specific cosmetic goals for liposuction. During your examination Dr. Pledger will ask you to point out the exact areas where you would like to see improvement. He will also check the elasticity of your skin and may feel certain areas to assess the thickness of the underlying layer of fat. He may also ask you if you are planning to lose or gain weight in the future. Dr. Pledger uses the tumescent technique, in which the fat is pre-injected with a salt-water solution containing small amounts of adrenaline and a local anesthetic.
Surgery
Liposuction is performed under general anesthesia on an outpatient basis a surgical suite. Prior to going into surgery Dr. Pledger will again meet with you to discuss the procedure and to mark where the incisions will be made. Whenever possible, incisions are placed within the natural folds or contour lines of the skin so that they are inconspicuous. During surgery Dr. Pledger will place a slim, hollow tube called a cannula through the incision so that its tip penentrates the underlying fat. After the cannula is connected by flexible tubing to a suction pump, Dr. Pledger will move the cannula back and forth through the fat, which is vacuumed into the tube. The surgery time will vary depending on sites, but normally ranges from 1 to 3 hours. Once the procedure is finished you will be placed into a compression garment or wrapped with an ace bandage. You will then be taken to the recovery room.
Postoperative Recovery
You will receive strong pain medication, which should control most of your pain. You are likely to feel bruised and sore for a period of time following the surgery. Your activities will be limited, but you are encouraged to get out of bed and move around shortly after surgery. You will need to wear your compression garment for 3 days without removing it. After six days you may take your compression garment off to wash it, but you will need to put it back on as soon as possible. You should wear it most of the time day and night for 6 weeks. The compression garment provides pressure to keep your swelling down and it improves the healing process. Dr. Pledger will see you in his office for follow-up 1 to 2 days following surgery. You will be given a detailed list of postoperative instructions.
Within the first week your swelling will reach its peak and then begin to subside. After 3 to 5 days you can return to nonstrenuous work. After 2 to 3 weeks your bruises will begin to fade and eventually disappear. Swelling will continue to go down. You will not see your final result until 3 months following surgery, when swelling and fluid retention have subsided.
After your surgery you will notice that clothes fit more comfortably. As long as you maintain your postoperative weight, your new, slimmer contour will be permanent. Many patients who gain a few pounds after surgery find that the weight distributes itself more evenly and does not settle in the same "problem areas."