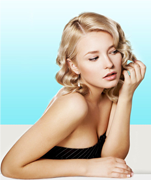 In today's challenging environment we are continually judged by friends, associates and acquaintances; even by people we interact with briefly or just pass on the street. Fair or not, appearance counts and these judgments are partly biased by how we look.
Scientific and psychological studies frequently remind us that those who look better, do better… financially, socially, and believe it or not, in their personal relationships.
Deep down we acknowledge this to be true because we know when we look well our confidence rises and we actually enjoy life more! All of this sends a Strong Message.
Look your best.
Be all you can be.
Enhance the quality of your life to the fullest.
Perhaps a flatter tummy, slimmer hips and thighs or fuller breasts would create the new image you want, elevate your self-esteem and raise your confidence.
If spending the money seems daunting, if paying it in one lump sum is inconvenient or you would feel guilty or selfish doing something for yourself just now when there are other needs for available funds… if you simply do not want to use a nest egg set aside for emergencies… or if you've been wavering for any economic reason at all… YOU CAN HAVE IT BOTH WAYS!
Care Credit